Phil BailyBaily Vineyard & Winery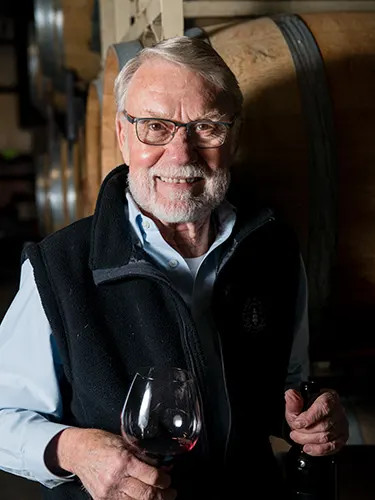 What do you love about making wine in Temecula Valley? What drew you to the region?
After a 15-year stint as a Consulting Actuary, I and my wife Carol sold our home in the Los Angeles suburb of San Marino and "moved to the country" specifically, Temecula, California, because great wines were being made here. We opened a small winery in 1986 with the goal of producing outstanding wines that could stand with the best in California. Over the ensuing years we acquired or planted 25 acres of prime vineyard land and built a larger state-of-the-art winemaking facility, while I perfected my winemaking techniques to produce wines that best reflect the unique terroir of the Temecula Valley.
What is your winemaking style/philosophy?
Specializing in wines made from the traditional Bordeaux varieties, most notably Cabernet Sauvignon, I craft my wines to produce an "Old World Style" characterized by restrained alcohol and higher acidity, emphasizing elegance and finesse as opposed to boldness and power. To this end, the grapes are picked at moderate sugar levels and the wines undergo longer barrel aging to produce more complex, less fruit-forward aromas and more integrated tannins.
What is the one thing you want people to know about Temecula wines?
The Temecula Valley vineyards are located about 20 miles inland at an average elevation of 1500 feet. The combination of a gap in the coastal range to the west and rising air in the desert to the east causes cooling ocean breezes to be pulled through the vineyards almost every afternoon throughout the summer. According to the UC Davis Heat Summation System the Temecula Valley is classed as a Region III, the same as the central and northern part of the Napa Valley.
What are you excited about when it comes to Temecula Valley's future?
As we approach the 50th anniversary of modern-day winemaking in the Valley, we are poised to become internationally known as a place where a wide variety of wines are made that can compare favorably to any in the world.