Olivia BueRobert Renzoni Vineyards & Winery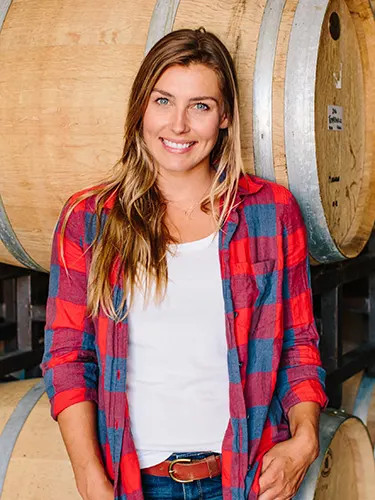 What do you love about making wine in Temecula Valley? What drew you to the region?
What drew me to Temecula Valley was the opportunity to grow with the region and be part of the regions success. Our main goal in Temecula Valley is to get recognized for our quality wine beyond just southern California. If I can be even a minor part of that movement, the decision to come south 10 years ago, and invest my winemaking career in Temecula Valley, was the best decision I could have made.
I completed my first Temecula Valley harvest internship in 2011. Worked in a few other wine regions the 2 prior years, then was hired by Gus Vizgirda at Maurice Carrie Winery in 2012 as his assistant winemaker.
What is your winemaking style/philosophy?
Being a deep-rooted Italian winery, we have always maintained similar style to the Italian winemaking philosophy; bright flavors, clean and approachable wines with lower alcohol in order to really help the unique characteristics of each varietal shine through.
Hands on approach in the vineyard and cellar. In the vineyard, maintain nutrients, meticulous canopy management and necessary biodynamic practices to help guide a healthy vine to maturity. In the cellar, constantly taste especially during harvest and don't cut any corners. If you're going to do it, do it right.
Understand each varietal individually. Once you understand their innate characteristics, you can intervene as needed. What works for one varietal, won't necessarily work for the next.
Thorough cleaning is our #1 priority in the cellar. All equipment is sanitized meticulously before coming in contact with wine. Robert has invested a lot toward efficient cleaning machinery such as barrel steamer, Gama jet, ozone machine so we can keep our cellar clean!
What are you excited about when it comes to Temecula Valley's future?
I am loving this positive momentum that we are all creating together; the numerous 90+ point scores from Wine Enthusiast and other prestigious awards earned across the region, the focus on quality at countless wineries, more and more owners providing winemakers with the tools to make an outstanding product. All of these factors contribute to the continuous success that keeps growing. I'm incredibly proud to be part of this region.