James RutherfordMount Palomar Winery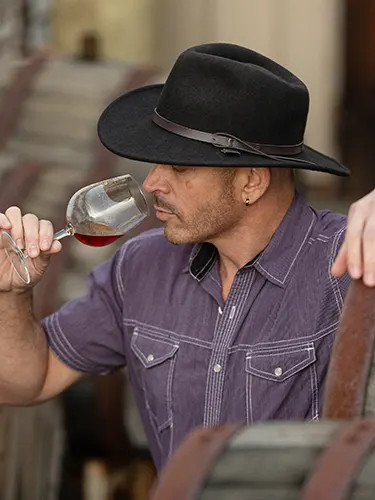 A transplant from Northern California, I moved to the Temecula area at a young age. Recently I learned my family tree can be traced back to the early Californios, specifically ones who settled, and once owned a land ripe for winemaking, Napa Valley. After learning this I found it interesting that as a teenager I already knew what I wanted to do here, make wine. Coincidence? Maybe…maybe not.
In my eyes, what makes Temecula and its surrounding wine country a great place is that it's friendly, welcoming, and adaptable. Although wine is not new to the area, and Temecula is well known for producing quality wine, there is this exciting feeling that somehow, we are new, and on the verge of discovery. I have a sense that being a winemaker in this region, that sits distant to the wine industry of the North, allows for greater creativity.
My philosophy regarding wine is simple, I acknowledge the fact that everyone has different tastebuds, so one size does not fit all. Regardless of wine knowledge and experience, one person's wine preference is as valid as the next, whether that person is new to wine or a wine expert. At Mount Palomar Winery, we have garnered numerous awards for our wine, as everyone in the valley has, yet we are not chasing awards. Instead, we are more pleased when our wines are well received by the public.
Since Mount Palomar Winery is one of the founding vineyards and wineries of Temecula Valley, I came into a well-established program with 25 different wine grape varieties in the vineyard. This kind of variety provides for a broad palate, but it can also be a challenge when deciding what winemaking traditions to keep, or when to step away from what has been done and established and try something new.
Wine is a living product, and so are wineries, living and changing. Experimenting and trying new things is key, and if we Californians didn't change things up, we would still be chasing the French Wine Industry; now they chase us. So, to be clear, what I would like people to know about Temecula is that we are not trying to become Napa or any other wine region. Our terroir suits us just fine and there remains a lot to look forward too. I am excited about for the future of the Temecula Valley wine industry. We are expanding, and in so doing, allowing more people to enjoy what we already enjoy here. There will be more wineries, our facilities will continue to make the appropriate updates, and we will continue to do our part, being the good farmers and good neighbors that we are. Temecula will be just as friendly, culturally plural, and welcoming as it is now, and the only thing you'll have to know about a particular wine is if you like it.