David AllbrightMonte De Oro Winery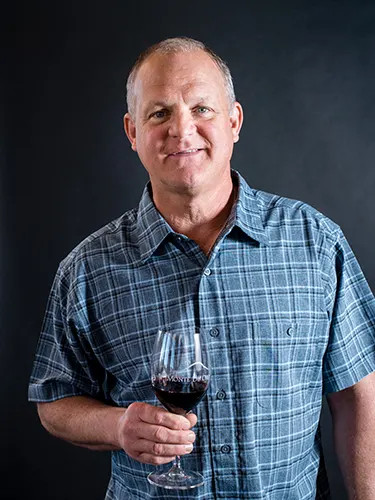 What do you love about making wine in Temecula Valley? What drew you to the region?
Originally, I was stationed at Camp Pendleton as a U.S. Marine in 1990,  just getting into wine and decided one day to take a drive off base and head east to a nearby little wine country that just got its new name called Temecula in 1989.  After my military time, I returned back to Temecula in 2001 from my hometown Bastrop/Austin, Tx. Beside the wonderful weather and climate in Southern California, I really fell in love with the location of Temecula and its size in population of 73,000 compared to Austin's Population of 700,000. Temecula has that small hometown feel and is only a hop, skip and jump away from the larger cities like San Diego or Los Angeles.
What I love about making wine in Temecula Valley is that I have established a constituents of winery owners, association members and other winemakers that have always cared to share their winery business or winemaking experiences with me, along with the much love and support in my endeavor of winemaking.
What is your winemaking style/philosophy?
Wine integrity; keeping true to the quality of being honest to the wine varietal itself and to make a wine that represents of which it is labeled.  The art and science of blending different varietals is quite acceptable in order to improve and achieve a better product, as long as the original intended varietal that's featured on label is not diminished by other blended varietals. "Lipstick on a Pig"
What is the one thing you want people to know about Temecula wines?
Temecula Valley wineries have something for everyone.  Give us a try and if you don't find the wine at first that you're looking for, please try us again.  I would point out that the Temecula wine country is still a very young AVA, but has made vast improvements in producing premium wines over the last 20 years.  As far as Monte De Oro wines, we have earned 3 Best of California Wine Awards and 11 Best Varietals of Southern California Wine Region Awards, helping to make Temecula Valley Wine Country a "USA TODAY" 10 BEST READER'S CHOICE WINE REGION.
What are you excited about when it comes to Temecula Valley's future?
Many wineries without a doubt in Temecula Valley are becoming more nationally known all the time for their great wines.  "Wine Enthusiast named Temecula Valley one of the world's top wine destinations for good reason," said Krista Chaich, executive director of the Temecula Valley Winegrowers Association.  Monte De Oro Winery has earned over 300 Platinum, Double Gold, Gold, "Best - of ", and 90+ Point Rated Wine Awards since opening in 2010.  MDO has received Gold medals from States as far as Boston, MA, New York, Chicago, Il and down south from Texas. Right here in California we recently earned 99 points and Double Gold medals for our 2018 Syrah and Cabernet Franc – "2022 California State Fair". Those that try our wines once, seamlessly become fans for life, and to think – we are only 13 years old with more to come!
So yes, I'm excited about the future of Temecula Valley and the wines of Monte De Oro Winery!