Brian MarquezWiens Family Cellars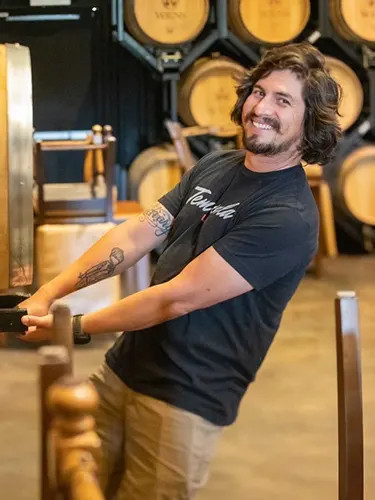 What do you love about making wine in Temecula Valley? What drew you to the region?
I love making wine here because I grew up in Temecula. This booming little wine country was in my backyard and growing up I had no idea how big it would get.
What is your winemaking style/philosophy?
Big Reds & Crisp Whites, classic wines with a SoCal twist. At the end of the day, I want you open a bottle we made and share it with your friends because its something you look forward to sharing.
What is the one thing you want people to know about Temecula wines?
We can easily go up against the "big boys" any day.
What are you excited about when it comes to Temecula Valley's future?
I am looking forward to the next generation of winemakers that are moving up in Temecula. Since the area is still somewhat in its adolescence, we are just starting to see the second generation of winemakers and growers coming up in the valley.