Tim KramerLeoness Cellars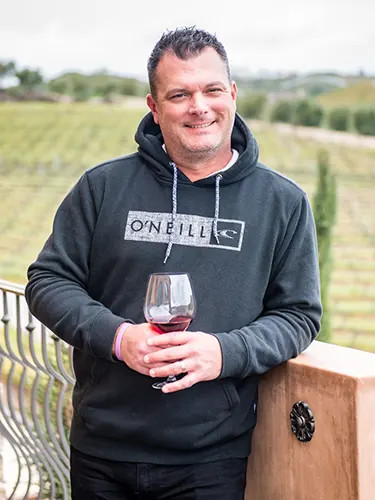 What do you love about making wine in Temecula Valley? What drew you to the region?
I started to learn about wine when I was 22 after a trip to Napa. Temecula was the logical place for me to visit, having grown up in San Bernardino, and I did so often. This was the mid 1990's, so there weren't many wineries at the time, 10 or 11, I think. The idea of becoming a winemaker in Temecula and helping the region find itself and grow in quality was really appealing and for that reason I decided to move to Temecula and begin my journey in the wine business versus going to another region.
What is your winemaking style/philosophy?
In a general sense, I think my style or philosophy is to let the grape varietals speak for themselves. I use oak barrels to elevate the fruit and add complexity and structure, but I don't want to overpower the fruit by over oaking the wines. I think this is where blending is key – we keep all our lots separate by vineyard block and barrel type, so at the end of the aging period, usually 20-24 months, I can taste each lot separately and add or remove characteristics to each wine by using more or less of the different lots, based on what they do to the final blend.
What is the one thing you want people to know about Temecula wines?
That we can and do make really good wines with grapes from the Temecula Valley. That there is a lot of time, money, knowledge and resources by many, many people constantly being put into continuing to make Temecula Valley wines better and better each year.
What are you excited about when it comes to Temecula Valley's future?
I think mainly just seeing Temecula finally get some of the recognition it deserves for making high quality wines. And I know there are some pretty exciting projects coming up in the near future, so seeing the continued growth in new wineries and vineyards is exciting as well.