Discover
Wiens Family Cellars
Located among the rolling hills and plateaus of the Temecula Valley…
SIP Passport Promotion: 10% off bottles purchased day of visit.
Amenities
Guided Tours
Wedding & Event Spaces
Picnic Area
Dog Friendly
Family / Kid Friendly
Live Music
Varietals
Cabernet Franc
Cabernet Sauvignon
Chardonnay
Merlot
Pinot Grigio
Syrah
Tempranillo
Vermentino
Winery Info
Tasting Room
35055 Via Del Ponte
Temecula, 92592
Phone
951.694.9892
951.694.9893 Fax
Owned By
David Steinhafel & Mark Steinhafel
Winery Established
2001
Winemaker
Director of Winemaking - Joseph Wiens; Head Winemaker - Brian Marquez
Current Production
25,000
Food Services
Food Trucks Thursday-Sunday, 12pm - 5:30 pm daily (**12pm - 7:30 pm on Fridays)

Limo/Bus Policy
Limos and shuttles buses are by appointment only. We are committed to maintaining a high level of customer service to all of our guests and we cannot take any groups over 7 guests after 12:00 p.m. on the weekend. Please call (951) 694-9892 to request an appointment.
Hours
10:30 am - 6:00 pm Sat-Thurs, 10:30 am - 8:00 pm Friday; Family/ Kid Friendly every day

Wiens Family Cellars
We began with a vision: Hand-crafted California wine from vine to glass. Upon planting our first vineyard by hand in 1996, our connection to the process deepened & that dream got bigger. Just as those ambitions grew, so did our membership & winemaking program. After rooting that dream in Southern California soil, we opened our doors in 2006.
Nestled in the rolling hills of Temecula Valley lays Wiens Family Cellars; a hidden gem found between the commotion of Los Angeles and San Diego. Our winery produces a broad range of high quality, locally grown and vinted varietals for the enjoyment of both connoisseurs and novices alike. Although known for "Big Reds" like our Refugio Cabernet Sauvignon and Chateau Grand Rouge, we also offer a variety of crisp whites & several sparkling wines like our beloved Amour de L'Orange.
In addition to traditional tastings and wine by the glass or bottle, we offer exclusive seated tastings of limited production and reserve wines in our Cellar & Barrel Rooms. Visit our Winery Estate for a sample of Southern California's best wines.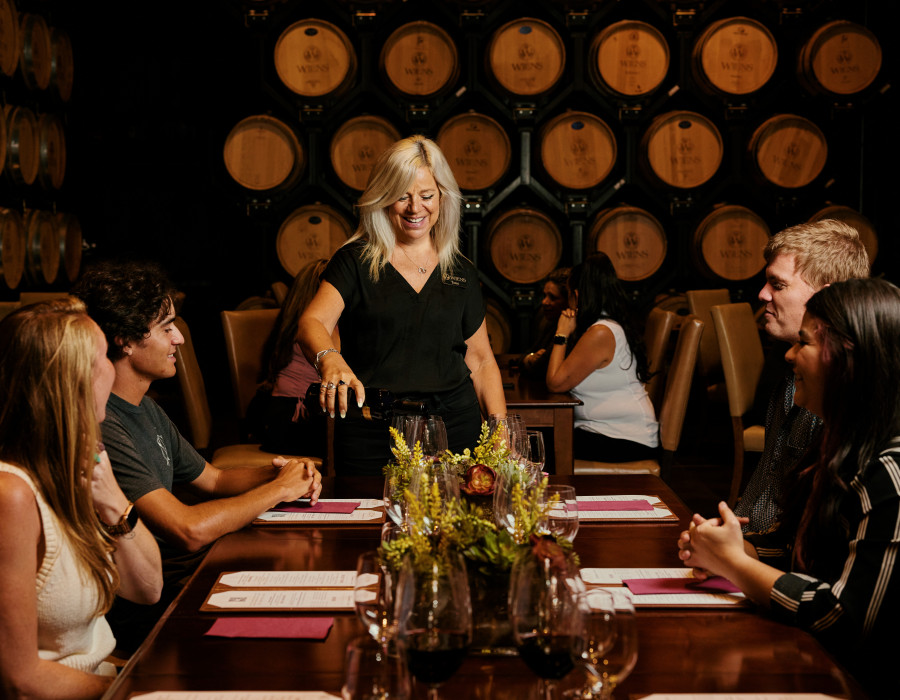 Wiens Family Cellars Events